Benefits of Window Cleaning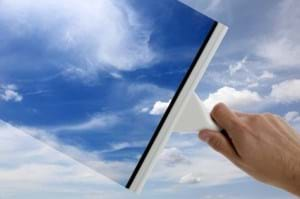 Many people overlook windows when they are completing cleaning tasks, or they may only clean their windows every once in a while. Clean windows have many benefits, ranging from your building's overall appearance to improving the efficiency of your home or business premises.
Benefits
Better results
A professional window cleaning company is most likely going to leave your windows looking much better than you expected. Given the experience, equipment, and professional cleaning solutions, you will see why a professional window cleaning company produces better results.
Extend the life of your windows
The routine cleaning of your windows can protect and extend the life of your windows. Over time, your windows will gather dust, dirt, oxidation, and other corrosive substances. Regularly cleaning your windows will help remove contaminants, such as: acid rain, hard minerals, and mildew. The key factor is to remove these contaminants before they cause permanent damage, like the effects of oxidization.
Saves your time
Juggling all the balls that life throws at us can seem daunting to say the least. Most of us try to figure out how we can spend more time doing the things that we enjoy, rather than spending our precious time washing windows. Most people can do the job, but what may take you all weekend, will take our commercial cleaners just a few hours.
Safety
If your house or business premises has more than one level, then you are going to spend a lot of time on a ladder cleaning your windows. Why not leave it to the professionals to navigate the ladder and equipment to get your windows sparkling again? Cleaning the interior of your windows also has the added benefit of cleaning away mildew and dust from inside your home.