Hard Floor Maintenance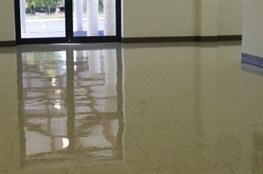 AM Retail Services is your perfect partner, offering the total solution for the maintenance of your floor, for instance: floor polishing, scrubbing or burnishing. Whatever the floor size is or floor material used, we are ready to offer our help in dealing with it.
Our services for hard floor care.

Buffing – High Speed Floor Care: Buffing will remove light scratches and most scuff marks. Also it will add luster while dislodging dirt. As well as blending touch-up spots with the original finish.
Floor Stripping and Re-Finishing: Eventually, it might be necessary to strip the old polish off the floor to prevent build up, and do a careful cleaning of the floor to prevent permanent damage.
Floor Scrubbing and Finishing: Floor surfaces need to be protected from wear and tear. Using a finish (polish) on the floors protects them from dirt and pedestrian traffic especially when the floor is still new.
Environment-Friendly Products: AM Retail Services ensures that cleaning products are environment-friendly.
AM Retail Services is the right partner for protecting your floor, maintaining its quality and extending its life-span.