Outsource Your Cleaning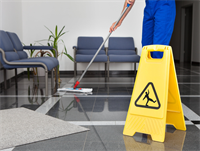 Once it used to be the standard for larger companies to employ their own cleaners, who dealt with all in-house cleaning tasks. The company had to train and manage them, supplies and equipment had to be purchased, maintained and stored on the premises. However, times have been changed and many companies are choosing to outsource cleaning services to commercial cleaning companies.
Being Flexible
It may be that companies need only an occasional or one-off clean; for example, after an event, to supplement their normal cleaning activities. Additionally, they may need experienced staff with equipment to assist in the event of a disaster, such as cleaning up after a flood or a fire.
Extended services
Cleaning services go above and beyond the duties of in-house cleaners. The company may also need an external building cleaning, gardening services, window cleaning and steam cleaning.
All in all, commercial specialist cleaning companies can take over the management of all aspects of hygiene and cleanliness from the company, allowing them to focus on the running of their business.