Polished Concrete Floors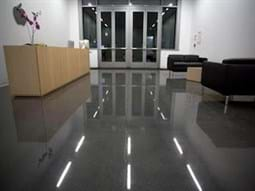 A polished concrete floor has a mirror-like, glossy finish with diverse design options. However, in order to hold onto that shiny appearance, it is essential to make sure that you keep on top of its cleaning.
AM Retail Services provides maintenance services for polished concrete floors using non-acidic cleaning chemical, as these types of chemicals deteriorate the shiny aesthetic of your polished floor.
To thoroughly break down dirt, we allow our cleaning solution enough time to attack the surface. We pay special attention to high traffic areas, as they undergo a lot more stress and impact on a daily basis. These areas will need more frequent and careful cleaning and buffering.