Window Cleaning – Trained Specialists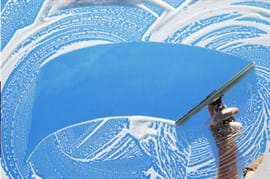 AM Retail Services uses a technology for window-cleaning with numerous advantages over the traditional, especially regarding safety and speed and the equipment which is lighter and easier to transport.
All our specialists are well-trained in delivering a full range of cleaning solutions throughout Victoria state.
We pay special attention not just to chemicals used, but to the quality of water, and how to treat it, as it is a vital component of window cleaning. And AM Retail Services uses pure water that is ideal for smear-free and mist-free window cleaning.
If you put off the idea of window cleaning because you don't like the idea of going up and down ladders, or working at height, our trained staff will help and do a professional window cleaning at the best standard.